The Gulas Group provides proven and reliable assessments, coaching, training and development processes that provide significant and measurable improvements in performance and a solid path toward achieving your goals.
Clients seek us out to help them achieve their strategic goals; close sales quickly, resolve internal and external conflicts, reduce falling margins, and smooth communications.
Ted Gulas Biography
Ted Gulas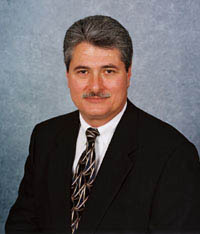 Ted Gulas, President of the Gulas Group, specializes in the development of "Human Capital", by guiding individuals, teams and organizations to their goals. This is done by re tooling a critical but often overlooked asset of the 21st century the "knowledge worker". The Gulas Group is successful at accomplishing this development in three distinct areas: Strategic Intent, articulating and planning those initiatives that are key to overall business performance for example, leadership development, project and strategic management. Day to Day Execution of Good Intentions, gaining better control and focus over our busyness in todays have to have it yesterday workplace with such initiatives like Working Smart with Microsoft Outlook and other Priority programs such as Influencing. Working Effectively with Others around Us, maximizing our leverage capabilities with internal and external team members in areas such as sales development, sales management, accountability, team work, coaching, negotiations and customer service.
Prior to building the Gulas Group Ted Gulas was the Executive Vice President of Sales & Marketing for a major international manufacturer. During his eleven years he was responsible for developing, hiring, and coaching over 80 manufacturer representatives and an internal staff of eight people. He was directly responsible for opening major accounts such as Sears, K-Mart, Home Depot, Lowe's, Ace Hardware, and True Value. Ted won numerous awards and certification in his Industry. Prior to that Ted was an entrepreneur in both the Real Estate and Restaurant industries.
In 1989 Ted fulfilled his entrepreneurial instincts and became a franchisee of Priority Management Systems, Inc. For the past 16 years he has successfully built his Alabama-based organization from the ground up with offices in Huntsville, Birmingham, and Montgomery. Ted has facilitated hundreds of workshops for thousands of individuals across the U.S.A. His workshops focus on increasing revenues by improving worker productivity. Ted has worked with numerous Alabama companies such as ITC Delta Com, AmSouth, Wachovia, ADTRAN, City Wholesale, St., Vincent's Hospital, Crestwood Hospital, Expo Displays, American Red Cross NASA and others. Ted has been described as someone with a distinct "ability to convert conceptual ideas into brilliant practical reality."
Due to the demands for relevant workplace assessments, Ted in 1996 expanded into assessments and now offers workplace assessments from companies such as TTI, Objective Management Group and Priority Management Systems Inc. This expansion allowed the Gulas Group to reach beyond typical "sun tan" type training into truly developing the human potential. Each profile gives insights into the hiring, development and coaching of sales people as well as team and leadership development, which the Gulas Group offers.
Ted has also joined and formed various strategic partnerships across the U.S.A expanding his workplace development offerings. In 2001 all of Ted's company's and strategic alliances were consolidated under their new company name The Gulas Group; www.gulasgroup.com. Ted is a certified TeleClass trainer and provides weekly and customized TeleClasses on various subjects. This has enabled Ted to coach and facilitate work with clients worldwide through his network of strategic partners.
Ted has been a contributing writer for such publications as Huntsville Business Sourcebook, The Birmingham Business Journal, and Alabama Technology Today. Ted authors two monthly e-zines plus he distributes a semi annual newsletter titled Choices. In addition to the traditional classroom facilitations he provides keynote addresses and speeches across the region and has been a member of Alabama Council of Association Executives speaking to many of their groups. For the past two years Ted has served to host the Business before Hours for the Huntsville Madison County Chamber of Commerce. He is also a member of the University of Alabama Business Council and the Birmingham Regional Chamber of Commerce. Ted is also active in the Birmingham Alabama Chapter of the Professional Sales Association. Ted is a graduate of the University of Alabama and lives in Madison, Alabama. He balances his lifestyle by reading, strength training, and church. He has a passion for cars and recreational vehicles and enjoys trading so he keeps his wholesale dealers license active just in case.